Blog
Sledite naše inovacije in tehnološke rešitve
Blog
COATINGS INDUSTRY TRENDS
Although the use of coatings for new cars has been declining for 2 years, the use of paint materials has been increasing in recent years.
REFINISH MARKET SHOWS CONTINUOUS GROWTH
The global automotive refinish coatings market continued to grow in 2018 to reach almost 0.81million metric tonnes. The value increased from 2017 to 2018 from 8.85 billion EUR to 8.98 billion EUR. Contrary to the automotive OEM and plastic parts coatings market, the refinish market is projected to steady growth. According to IRL, the volumes should exceed 0.9 million tonnes in 2022 and reach 0.93 million tonnes in 2023. Asia-Pacific accounts for the largest share of sales followed by American region. The Middle East and Africa are estimated to be the fastest-growing region over the course of the next five years. IRL expects automotive coatings to grow in the long run. The struggling segments OEM are expected to pick up again in 2020 and surpassing the 2017 figures already in 2021. The analysts' forecast period ends in 2023. By then, the market size is estimated to reach almost 3.4 million tonnes. OEM coatings will hold a share of nearly 60 % (1.99 million tonnes) in the market. Refinish coatings are estimated to make up for 27 % (0.93 million tonnes) and plastic parts coatings for 13 % (0.47 million tonnes).


WATER-BASED SYSTEMS DOMINATE OEM, WHILE SOLVENT-BASED ARE THE CHOICE FOR REFINISH AND PLASTIC PARTS
In terms of application systems, water-based coatings account for the majority of sales in automotive OEM coatings, mainly due to the European and North American legislation in place for these markets. In 2018, water-based coatings accounted for 0.93 million tonnes in the OEM segment, followed by 0.84 million tonnes of solvent-based systems and 0.04 million tonnes of powder coatings. In the refinishes and plastic parts markets solvent-based coatings are still dominant. Some 76 % of the applied systems in the refinish segment are solvent-based. With 79 % is the share of solvent-based systems in the segment of plastic parts even higher.
PURE ACRYLIC ARE THE MOST USED RESINS
Regarding the main resins used, pure acrylic accounts for the largest share in all the three coating types market. These resins are used in some 40 % of the coatings or in 1.2 million tonnes of the total of 3.06 million tonnes.
Pure acrylic-based resins account for some 33 % in automotive OEM coatings. The second-largest share of the automotive OEM coatings market holds epoxy-based coatings (30 %) followed by polyurethanes (20 %).
In the refinish segment more than 40 % of the coatings systems are based on pure acrylic. Polyurethane is the second-largest resin type (28 %). Polyesters rank third with 17 %. In the plastic parts coatings market, pure acrylics hold the lion's share with some 62 %. The second-largest resins used are polyurethanes (15 %). Other not specifically named resins account for 14 % and are ranked third. The third-largest single resin type is polyesters, but they only account for 4 % in the plastic parts coatings market.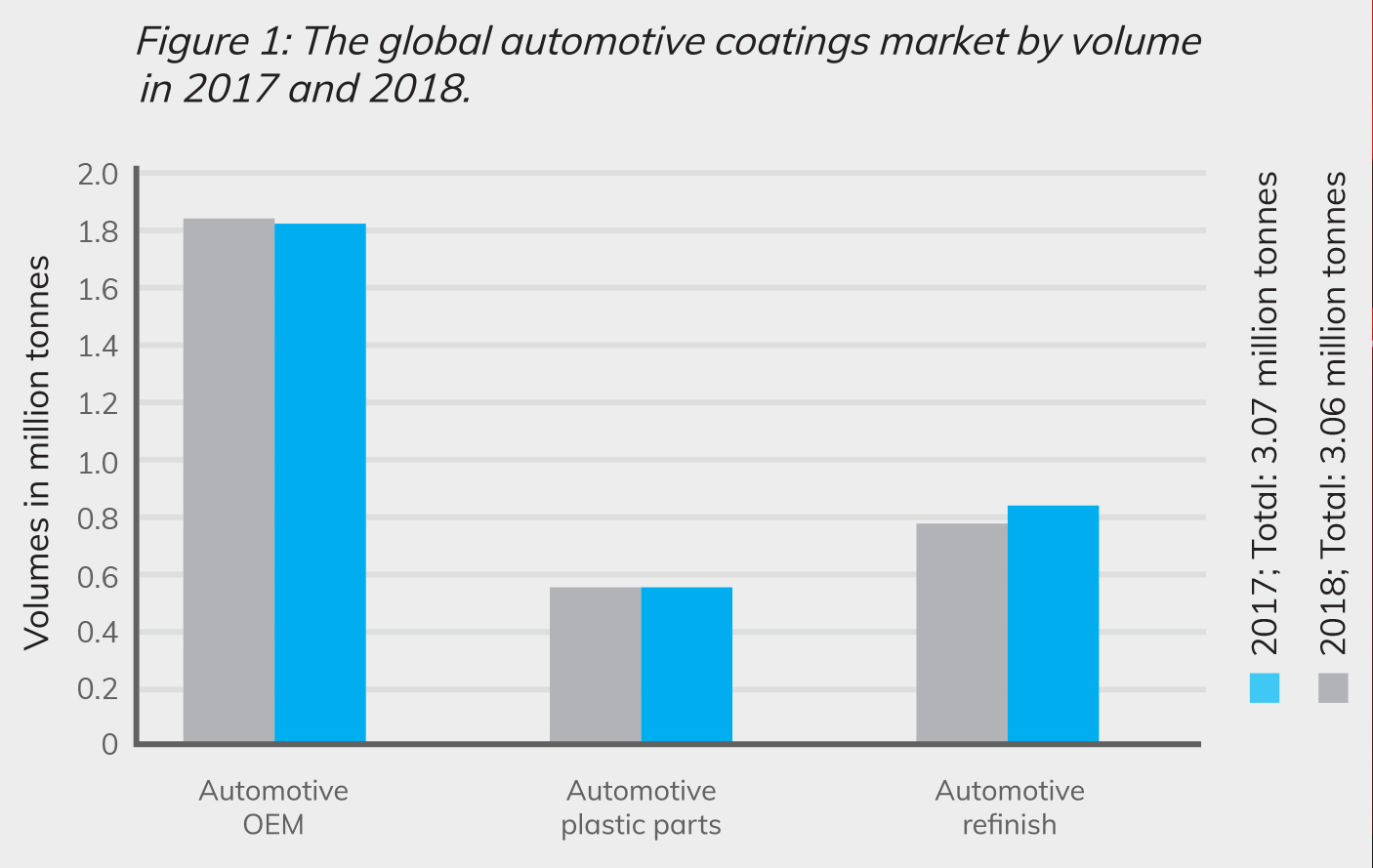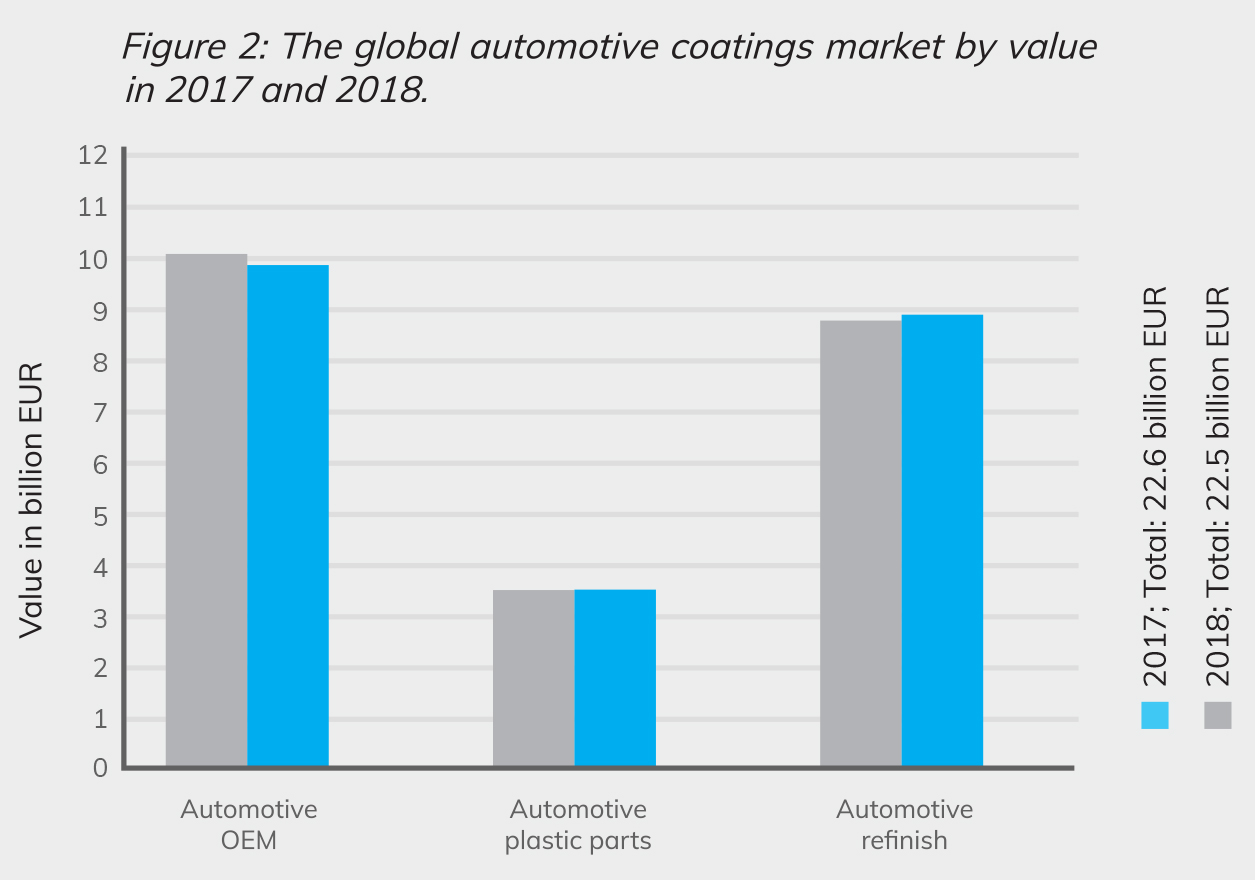 (Summarized by: A SLOW DOWN; European Coatings Journal ; 10-2019;
Razvijajte zajedno s nama.
Postanite naš partner.
Svim našim distributerima osiguravamo dugoročnu suradnju, pružamo treninge u našem trening centru te tehničku dokumentaciju na lokalnom jeziku. Podržat ćemo vas u pristupu tržištu, u prodajnim te marketinškim aktivnostima.
Kontaktirajte nas  
MOŽDA VAS TAKOĐER ZANIMA...